Why 7-in-1 Hydrafacial
A 7-in-1 hydrafacial (Hydradermabsion) is one of the most powerful, non-invasive skin resurfacing treatments available today. It combines cleansing, exfoliation, extraction, hydration, and antioxidant protection that removes dead skin cells and impurities, while simultaneously delivering moisturizing serums into the skin. The word "hydro" in Hydro facial refers to its incredibly hydrating effect. The Hydro facial procedure itself is fast and efficient, only taking about 30 minutes to complete. Moreover, the results are instantly noticeable, and there is no recovery time needed.
WHAT CAN THIS 7-IN-1 HYDRADERMABRASION MACHINE DO?
This 7-in-1 hydradermabrasion machine can give benefits to people with all skin types:
– Hydro oxygen hydrating: moisturizing, quickly penetrates the skin and increases skin vitality
– LED mask treats acne, regulates natural oil production, stimulates collagen and elastin,& reduces redness and wrinkling
– Ultrasonic import: 10 to 3 million vibrations per second, deep penetration, and repairing skin bottom
– Cold hammer whitening: whitens and rejuvenates skin, shrinks pores, and reduces sensitivity
– Skin scrubber: remove dead skin, improve excess cuticle, and fine skin
– Hydradermabrasion facial: deep cleansing, removing grease, blackhead, acne, and dirt, and increasing skin elasticity
– RF lifting: stimulates collagen, lifts and tightens skin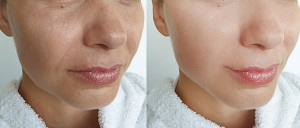 HydraFacial side effects and precautions 
While the HydraFacial is said to be free of complications Trusted Source, you may feel light pressure from the wand during the procedure. Unlike other cosmetic treatments, the HydraFacial isn't supposed to cause pain or redness.
However, you should avoid this procedure if you have an active rash, such as one related to a rosacea flare.
Is HydraFacial safe during pregnancy?
It's best to ask a doctor before undergoing any aesthetic procedures while pregnant, including the HydraFacial. A 2017 review found that while many cosmetic treatments may be safe, there have not been enough clinical studies to confirm this.
Can a HydraFacial cause a breakout?
In theory, a HydraFacial is designed to help address the excess sebum (oil) and dead skin cells that can lead to breakouts. The treatment may also help clear impurities during skin purging that may happen after deep exfoliation.
Before your treatment, let your provider know if you have extremely sensitive skin or are allergic to any ingredients that might cause your skin to break out after the treatment. And follow up with them if you experience breakouts after a HydraFacial.