Welcome to our Massage Therapy page, where we offer a range of therapeutic massage services designed to promote relaxation, reduce stress and relieve muscle tension. Our highly trained massage therapists are dedicated to providing personalized treatments that are tailored to your specific needs.
Whether you're looking for a traditional Swedish massage to improve circulation and ease muscle pain, a deep tissue massage to target chronic tension, or an aromatherapy massage to relax your mind and body, we have the expertise to deliver the best possible results.
We also offer specialized massage techniques such as cupping, myofascial release therapy, and Kinesio taping to enhance muscle recovery and prevent injuries. Our therapists are knowledgeable and experienced in these techniques and will ensure that you receive the most effective treatment possible.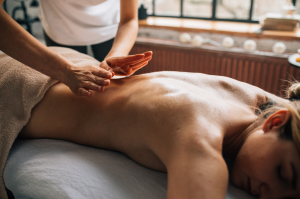 At our Massage Therapy page, we believe that regular massage can provide numerous benefits to your overall health and well-being. That's why we offer a variety of packages and options to suit your needs, whether you're looking for a one-time session or ongoing treatment.
Book your appointment today and experience the many benefits of massage therapy, including reduced stress, improved circulation, increased flexibility and more. Let our massage therapists help you relax, rejuvenate and feel your best.
In addition to our massage therapy services, we also offer complementary treatments such as botox and filler injections to help enhance your overall appearance and promote a more youthful look. Our team of experienced professionals can help you create a customized treatment plan that combines massage therapy with these cosmetic procedures to achieve the best possible results. Contact us today to learn more about how our services can help you look and feel your best.